Order Turkey: Hickory Smoked or Cajun Fried Turkeys.*
Let us do the cooking for you. Check out this video…
Hickory Smoked Turkeys

65.00 (tax included) – 10 lbs. to 12 lbs.

Cajun Fried Turkeys

87.00 (tax included)  – 10lbs. to 12 lbs

Larger size 9.00 per lbs.
POPULAR: The Ultimate Holiday Dinner Package for 12
Only 245 including tax
Includes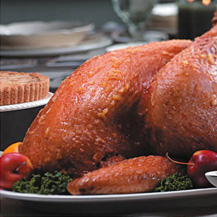 the 10lb. turkey (hickory or cajun fried), Cornbread Dressing, Gravy, Mac & Cheese, Collard Greens, Corn Bread, Yams, Dinner Rolls, and Two-homemade Pies (Pumpkin, Pecan, Sweet Potato, Old Fashion Lemon, Buttermilk, Chocolate, or Peach Cobbler). DELICIOUS!
Since 1999, our hickory smoked turkeys have been enjoyed by St. Louis families and out-of-state friends. Our smoked and fried turkeys are specially seasoned with our family recipe.
Deadline for All Orders: Sunday, Dec. 17

PICK-UP ORDERS by Saturday, Dec. 23, 3 pm
*IMPORTANT NOTICE:We'll give you a call within 24 hours to confirm your order and take a deposit. Our fried turkeys are cooked in peanut oil, we cannot guarantee that our fried turkeys are safe to consume for people with peanut or tree nut allergies.